ELITE KIDS ON AND OFF THE TRACK
MACKTRACK.US Speed Development Organization
believes if you put in a lot of practice, with the right drills,
mental prep and nutrition you can perform better in any sport you enjoy.
With 20 plus years' of experience coaching high school and youth track and field
we've seen
enough to know what works and what absolutely does not work.
There are things you can do that will actually hurt your performance. We offer you helpful
tips
that will elevate your game as an athlete and coach.
MACKTRACK ELITE SJ&RC believes that participation in athletics can provide students with the opportunity for personal growth. Teamwork, the mental and physical challenges of training and competition, and the experience of winning and losing graciously and respectfully are important life lessons that will serve athletes well in their future.
Character is an important component that requires time and effort. Coaches and parents can help students develop such habits by discussing, modeling, and reinforcing the desired attitudes and beliefs over time. We also understand that participation on this team demands a commitment that involves both dedication and sacrifice. This is required of not only athletes, but also of coaches and parents.
MACKTRACK ELITE SJ&RC is aware that students participate in athletics for various reasons:
Therefore, as an organization, we commit to the following:
· Offer athletes a safe and enjoyable experience
· Provide the greatest possible opportunity for athletes to participate in both practice and competitions
· Promote personal improvement in skills, physical condition and knowledge of the sport; and
· Promote programs of excellence that accomplish the above and lead to success on and off the track.
In order to achieve these goals, we hold the following positive expectations for
the primary stakeholders in our program.
MISSION
OF
MACKTRACK ELITE
Is to provide an opportunity for youth to develop spiritually and physically through Track and Field. To assist youth in enhancing their academic development by providing a positive environment, with knowledgeable mentors to assist youth in their academic achievement. To foster a safe environment which nurtures, develops, and exposes youth to a competitive atmosphere that garners self-confidence and self-respect. To serve the public interest by allowing maximum participation for anyone who desires to reach their full potential as an athlete, student, and individual. To create an educational and competitive experience within an atmosphere of sportsmanship. We strive to develop and realize individual and team potential by promoting high standards of competence, character, civility, and citizenship.
Joining "MACKTRACK ELITE" Guidelines:

Athletes who start training with the team your 1st tuition payment is due 2 weeks after your 1st practice.
Tuition will equal 10 payments of $60.00 which covers the indoor and outdoor seasons, your 1st payment will cover the USATF Membership card!
Monthly tuition cost is $60.00 per month per athlete.
Uniform, sweats & backpack cost $260.00 each athlete.
2019 Indoor Practices Start November 5, 2018 Thru March 2019.

2019 Outdoor Practices Start on the 2nd week of April 15, 2019 thru August 2019.

Practices Are Monday - Thursday 5:45pm - 7:45pm
1st year athletes please email a copy of your birth certificate to: speed@macktrack.us 1st year runners only!!!
If you need to make special arrangements outside of these guidelines please contact Sharon Traylor via email: Click Here
Coach Joyce - Sprints Ages 11 - 14
Alexis Joyce /
Former Professional Athlete
Alexis attended George Washington High School in Denver. At George Washington, Joyce is a four-time State Champion in the 100 meter dash and three-time State Champion in the 200 meters. Also helped her team win two state championships and she was a three-time winner of the Colorado Sport Women's Award.
Joyce, a native of Denver, ran collegiately at the University of South Carolina, where she was one of the Gamecocks' leading sprinters in the 60 and 100-meter dash. In 2002 – she was a part of history in the making as the first team to bring a National Championship to the University of South Carolina. In 2004 – her sophomore season – Joyce was part of a school-record-setting 4×100-meter relay squad that finished as the national runner-up at the NCAA Outdoor Championships. That finish earned Joyce and her 4×100 teammates All-America honors.
As a professional athlete, Joyce ran a lifetime-best time of 7.21 in the 60-meters at the 2008 AT&T USA Indoor Track and Field Championships in Boston, finishing second in the finals of the 60-meter dash with a time of 7.203 to edge her nearest competitor by three-thousands of a second to qualify for the world championships. She beat out Nike's Carmelita Jeter, who was the 2008 World Outdoor Championships 100-meter bronze medalist, for the final qualifying spot for the 2008 IAAF World Indoor Track and Field Championships as a member of Team USA. Also has a lifetime best time of 11.09 in the 100 meters. Qualified for the 2008 United States Olympic Team Trials in the 100-meter dash, and finished as a semifinalist in the 100 meter dash.
National HS Record Holder in 60 meter dash

6 Time- All American

2002 National Champion

2002 SEC Outdoor Champion

2004- 2005 SEC Champion 4x 100 relay

2005 SEC Outdoor Champion

2005 SEC 100meter finalist

2006 Finalist at USA Indoor Championships in the 60meter dash

2008 runner – up at the USA Indoor Championships in the 60meters

2008 World Championship Team

8th in the world at 60meters
Coach Ingram Assitant Head Ages 15 - 18
Coach Ingram was born and raised in Denver Colorado. I always watched track and field as a kid but never ran Track until High School. Initially I only ran track to get faster for Football; which turned out to be a great help. I attended Montbello High School, and graduated in 1997. While at Montbello I was a member of 2 State Track and Field team championships, and I also won 5 individual/relay events.
After High school I went to The University of Kansas on a full athletic scholarship (Football). I ultimately finished with a Bachelors of Arts from Colorado State University where I also competed in Track. At Colorado State I was fortunate enough to be on the first ever Indoor Mountain West Conference Championship team. I also did pretty well individually… I still hold the CSU 100 meter dash record, and was on the school record holding 4x100 meter relay.
Now I work for a technology/satellite company, and still compete in Track and Field. I love working with MACKTRACK. Helping the kids reach their goals is our number one task. The 2018 season is off to a great start, and I hope to assist a lot of athletes reach a national meet this summer.
Coach Ingram's Career Best
55m – 6.30 (#2 Nationally)
200m – 21.75 (#1 Nationally)
200m – 21.45 HS 20.86 (Summer)
100m – 10.30 (CSU Record)
4 x 100m – 39.56 (CSU Record)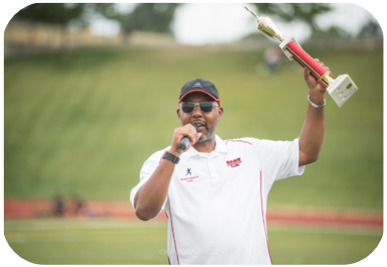 Coach Rob was introduced to track and field by Hall of Fame Coach Don Gatewood, while attending Montbello High School in Denver Colorado. His dedication and commitment to Coach Gatewood's program of fundamentals, teamwork and leadership on the track as well as in the community allowed him to excel as a member of Gatewood's three-peat State Championship team and fostered his desire to coach.
After leaving high school, Coach Rob worked odd jobs from collections, moving furniture, customer service, full time church ministry, disc jockeying and radio station voiceover work. With his love of track and field and wanting to assist young athletes reach their potential as athletes and responsible citizens. Coach Rob was given his first opportunity to coach by Marcus Walker his mentor. Mr. Walker ran his own track club in Denver, CO and brought Coach Rob in to train his sprinters and jumpers. Mr. Walker became the Athletic Director at Monbello High School in 1994 then hired him as an assistant coach where he coached for 6 years.
Coach Rob has coached for various summer track programs for the past 23 years including; Marcus Walker Track Club Denver, CO; Southern Striders TC Houston, TX; Carl Lewis Athletic Stars TC Houston, TX; Florida Elite TC Orlando FL; Ft. Lauderdale TC Ft Lauderdale, FL and Quick Reaction TC Lauderdale Hill, FL. Earning his Colorado Coaching Certification in 1994.
Today he continues to focus on teaching the fundamentals that have created State Champions and All-Americans in relay events, sprints 100 – 800 and jumps. He prides himself with understanding that the development of young athletes holistically is the key to creating college athletes, college graduates and great citizens.
Coach Weddington Sprints 7 - 10
Born and raised in Denver, CO. Since childhood, I always loved Track & Field. At the age of 10, I stopped Taekwondo, where I was a red-black belt, so I could run for Marcus Walker Track Club (MWTC), head coach Marcus Walker with assist coach Rob McReynolds. My 1
st
year was, we'll just say I know my parents wished they would have put their money towards something else. My 2
nd
year I knew what it meant to compete, losing was not fun, I became a contender. I continued running with MWTC through my high school years.
I attended East High School, lettering all 4 years, graduating in 2000. I was the team captain from 10th – 12th grade. Being a key component to the team, I helped East girls get to State all four years of my high school career. Competing in the 100 and 200, but the relays became my specialty. Unfortunately, I became prone to injury; pulling my hamstring muscles multiple times. This reoccurring injury kept me from pursuing my track dreams after high school.
After high school, I attended University of Colorado at Denver for a short time. Shortly after deciding CU Denver was not my cup of tea, I was accepted into an EMT program, that I later completed and became an EMT. In 2002, that certification would lead me to Denver Health Hospital, working in their Detox unit (Denver CARES). In 2007, I completed courses and became a certified LPN. Remaining at detox, I was promoted to a nurse position. I knew I could not stop there. I graduated from Platt College March 2014 with a Bachelors in Nursing. After passing my licensure, I was promoted to a Registered Nurse position. After a mere 4 months, I was yet again promoted. I am currently the Charge Nurse at Denver CARES detox.
I never lost my love for track! I always looking for a way back in it. Coach Rob and a former coach reached out to me about my daughter joining the team in 2015. A joyous moment, I was finally back in! I started as just a parent cheering the athletes on, then after a few talks with Coach Rob, he let me in as a Coach. One of the best decisions I have made! I have been coaching with MTE officially since the summer of 2017. I am the 10 & under/Youth Development Coach, coaching the fundamentals of track & field while hopefully teaching life skills at the same time.
During these years of work and school, I have maintained a marriage and have had 3 beautiful blessings.
No I have not set any records and never ran on a collegiate level; so no I cannot talk to your kids about how it feels to always be on the top nor how to run on a collegiate/professional level. I can however coach them on what hard-work and determination can do! My journey to get to where I am now was not an easy road. I experienced failure and set-backs repeatedly. I refused to give in and let failure take my throne.
My drive to succeed is the same drive I hope to instill in our young athletes, to help set him/her up to continue to always give their all in everything they do in the years to come.
Grew up in Denver, Colorado and attended Montbello High School. While attending Montbello, Mr. Smith fell in love with the sport of Track and Field and competed on the school's track team where he had an accomplished career.
After graduation, Mr. Smith attended the University of Colorado at Boulder where he competed in the long and triple jump and was able to hone his skills and truly develop an understanding for the sport.
Mr. Smith was able to obtain his Bachelor's Degree and later a Master's Degree. After graduating from the University of Colorado (CU), Mr. Smith followed the sport and later became a certified coach through USATF.
Mr. Smith currently coaches Jumps for Macktrack Elite.
He currently is the Jumps Coach for boys and girls of all age groups.
Coach Minter - Sprints Ages 11 - 14
I graduated from Thornton High School and was the first female athlete to receive a full track scholarship from my school. I started running when I was 5 years old for the City of Thornton CARA team. I ran with them until the 6
th
grade because I also played competitive soccer. I played soccer and track for 2 more years until we found the Colorado Flyers Track club. Coach Tony Wells told me I had to choose. I chose track. Track pays the bills. I learned so much from Tony Wells and the other athletes on the Flyers team. I learned to take pride in my performance, work hard, and never ever quit.
I attended New Mexico State University for two years until I transferred to Oklahoma State University. Things happen in life and I was very unhappy at NMSU. I found my home at OSU very quickly. I had a wonderful track career but injury prevented me from becoming the track star I always dreamed of. I was very active in student life during the off season and while I recovered from injury. I had the opportunity to take nutrition classes and kinesiology classes which helped me learn how the body works and how to become a better athlete. I think it also prepared me to be able to explain and coach as well.
During the summers I ran the Thornton CARA program that I grew up in. I also assisted Coach Art Levy with Denver Lightning in the evenings. Art Levy taught me a lot about training athletes to perform well but also train the whole athlete. I worked with him in the City of Denver after school programs tutoring and providing enrichment experiences for the children of Denver.
Back to track. I hold several records at Thornton high School and hold several district 12 records. I was First Team Academic all American while at OSU I was on the Dean and Presidents Honor Roll the entire time I was at OSU. Because of my dedication to strength and endurance I was able to win awards in several weight lifting competitions. Let me tell you a secret it was easy because a big part of weight lifting is doing what you need to do in the weight room.
Currently I am medically retired from The Department of Homeland Security. In my free time I do work in my community. I am a proud Member of Delta Sigma Theta Sorority Inc. I try my best to be a voice for people whose voices are often overlooked and unheard.
I joined the Mack Track Family as a coach during the 2017 spring season. I love coaching these kids because they are driven. They work hard and they want to be great. So I am using everything in my coaching arsenal to help them be great.
Photos By Kymora Jaxson Malanya's Mom Photography
Videos by Dudley WittZenobia's Dad See More On His Youtube Channel
HELP OUR YOUTH ATTAIN THEIR GOALS
Track and Field is relatively inexpensive; however, our small tuition fee does not fill our budget requirements. Additional expenses are needed towards facility rental, race entrance fees, transportation & equipment. Some of our athletes are also unable to purchase uniforms, shoes, or travel to training camps. We are asking families and business to donate an item, cash, gift card/certificate, or service. This is a great chance for families or local businesses to support its community's youth. If you would like to make a company donation purchasing equipment such as track equipment, banners, uniforms or a tent, we will dedicate it to your company. MACKTRACK ELITE athletes are some of the hardest driven and academically gifted kids in the state of Colorado. Any donation you give would be much appreciated. By donating to this nonprofit organization, we will acknowledge your business or your family at our next event.
This donation may be tax deductible. Thanks for your support.
MACKTRACK ELITE SPRINTS JUMPS RELAY CLUB INC. 501(c)3 Tax ID# is 81-­2656491
3664 Magnolia Street. Denver, CO 80207
Tel: 720-271-1969 Director Sharon Traylor
Tel:
786-395-1556 Coach Mack
Email: speed@macktrack.us
Website: www.macktrack.us